Here's how to quickly blow up a poster to a higher resolution for large printing using the Let's Enhance AI-powered image upscaler.
Takeaways
Upscaling with Let's Enhance is a process that takes only a few minutes;
Choosing the right upscale type in the dashboard will create very different results;
Let's Enhance is a versatile tool that is very easy to use and requires no high-end hardware.
How to Upscale Poster for Print
Upscaling posters for larger print using Let's Enhance is a very short process that requires nothing more than a browser and stable internet connection.
Step 1. Log in or Register on Let's Enhance
Visit Let's Enhance to log in or create an account.
If you already have an account or have registered, click on My images to proceed to the Let's Enhance image editing dashboard.
With Let's Enhance, users can accomplish a number of image enhancements, including increasing the size of the picture and optimize it for large poster prints.
Step 2. Upload Image
Click on the folder icon or the Google Drive logo to upload an image in this general area.
Make sure that the digital copy of the poster is either JPG, PNG, or WebP and up to 50MB.
Step 3. Choosing the Right Settings
Once the image is uploaded, it's a matter of choosing the right Upscale type in the right-hand panel. Keep in mind, that each upscale type performs slightly differently and this also depends on the type of poster being uploaded.
Digital Art
Some posters include a ton of digital art and not a lot of text or any photos of actual people or settings. In this case, it's best to choose the Digital art upscale type, which automatically upscales the poster 4x the original size.
Using these settings, posters with very minimal art direction can be upscaled to larger sizes for print. However, since the resolution on this particular poster is quite small (375x562px), we'll need a larger solution.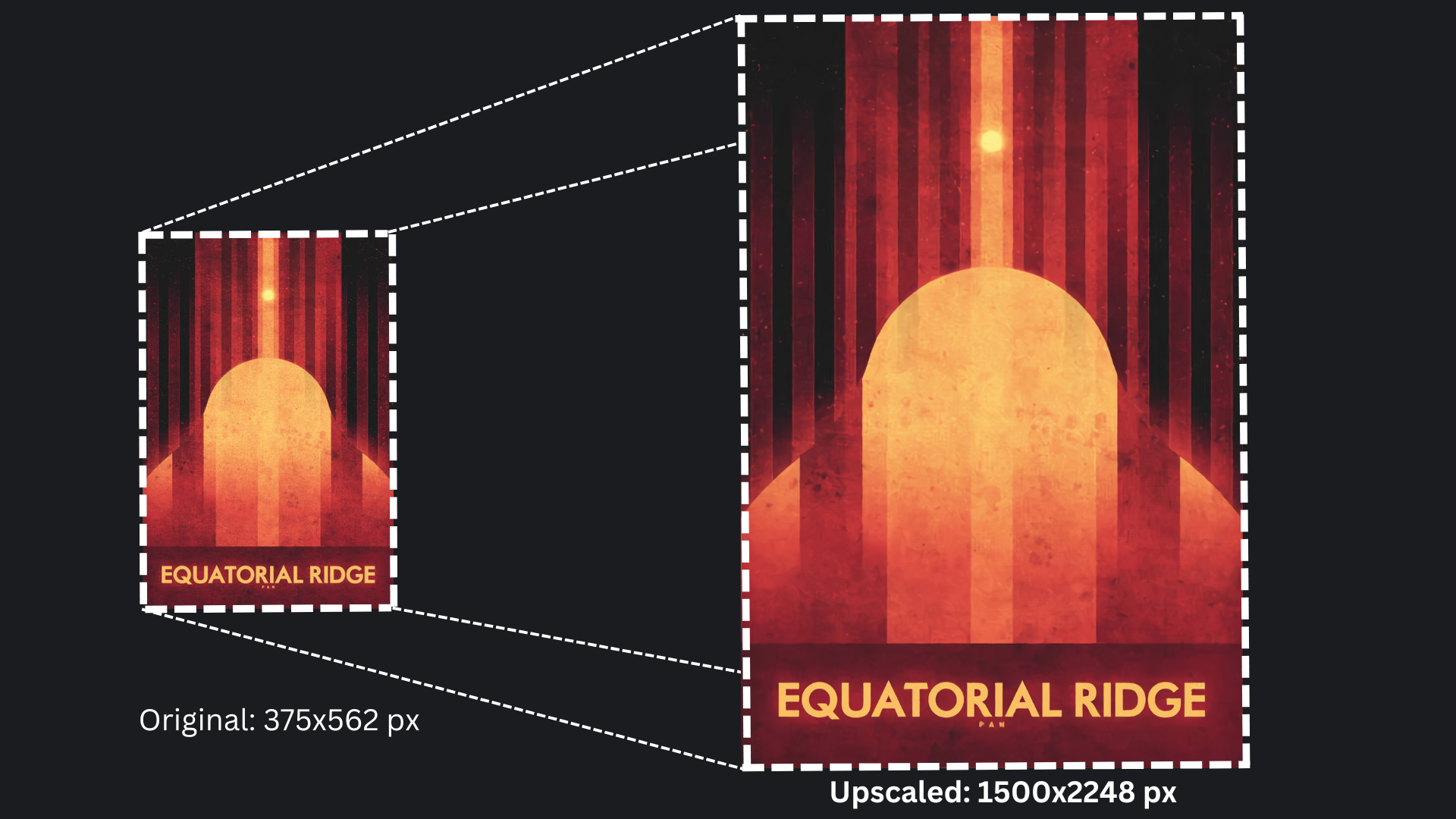 To make this poster for an even larger print, there's another option for upscaling on Let's Enhance.
Printing Presets
Click Presets instead of Operations at the top right of the dashboard. This will open preset settings for a variety of uses, such as printing, eCommerce, etc.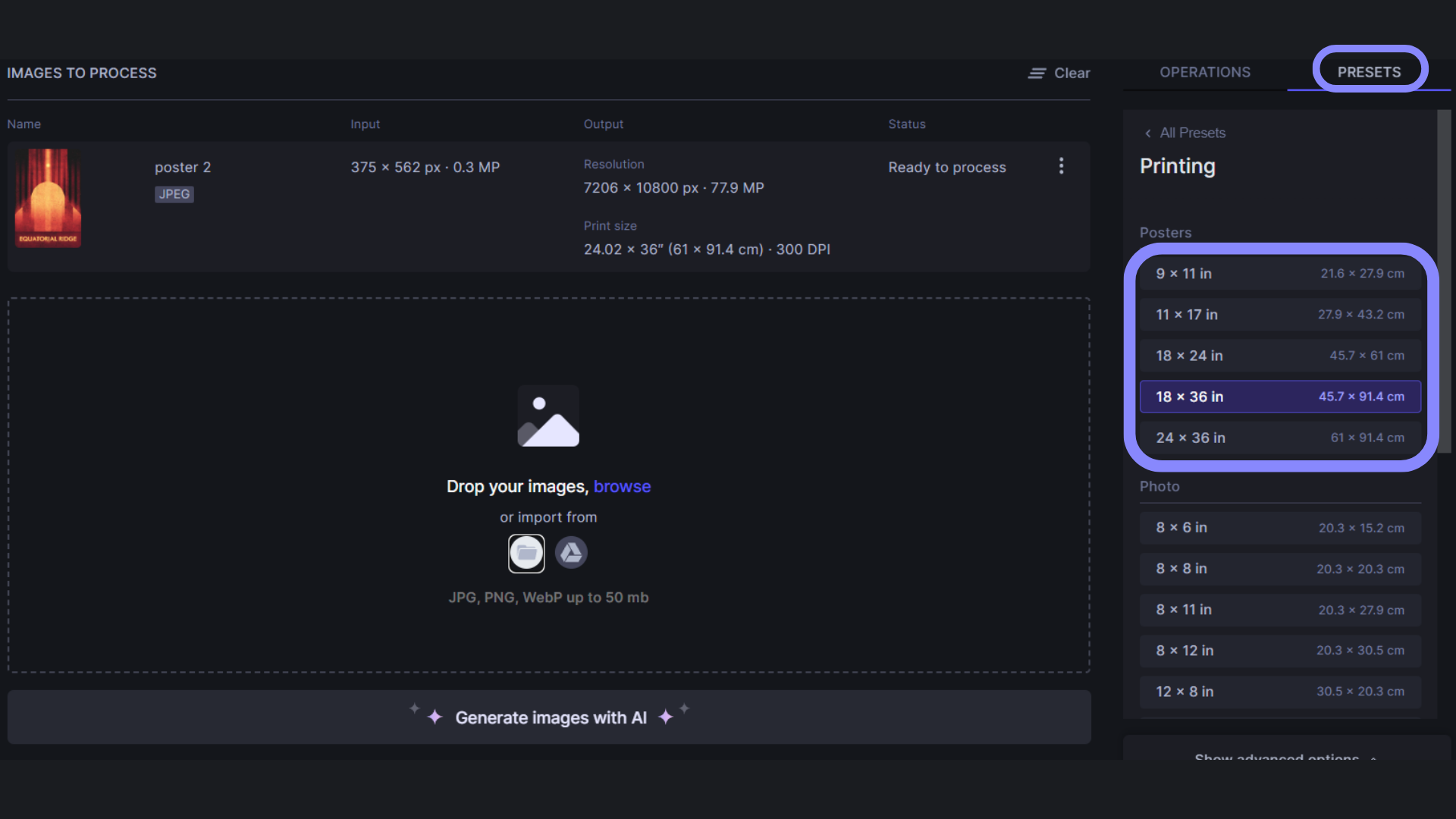 Choose a print size that seems suitable. For this particular upscaling task, the 24x36" size was chosen, which is an above average size for most posters.
Step 4: Process and Download
With the upscale settings ready, click Start processing at the bottom of the screen to render the image.
After a few seconds, the upscaled image will appear at the bottom of the dashboard.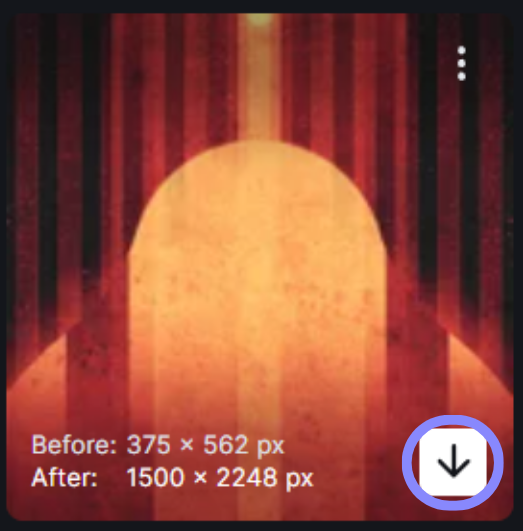 Click on the downwards arrow button to save the image to your device.
Before and After
Here's a quick look at how the poster looked before and after the upscale.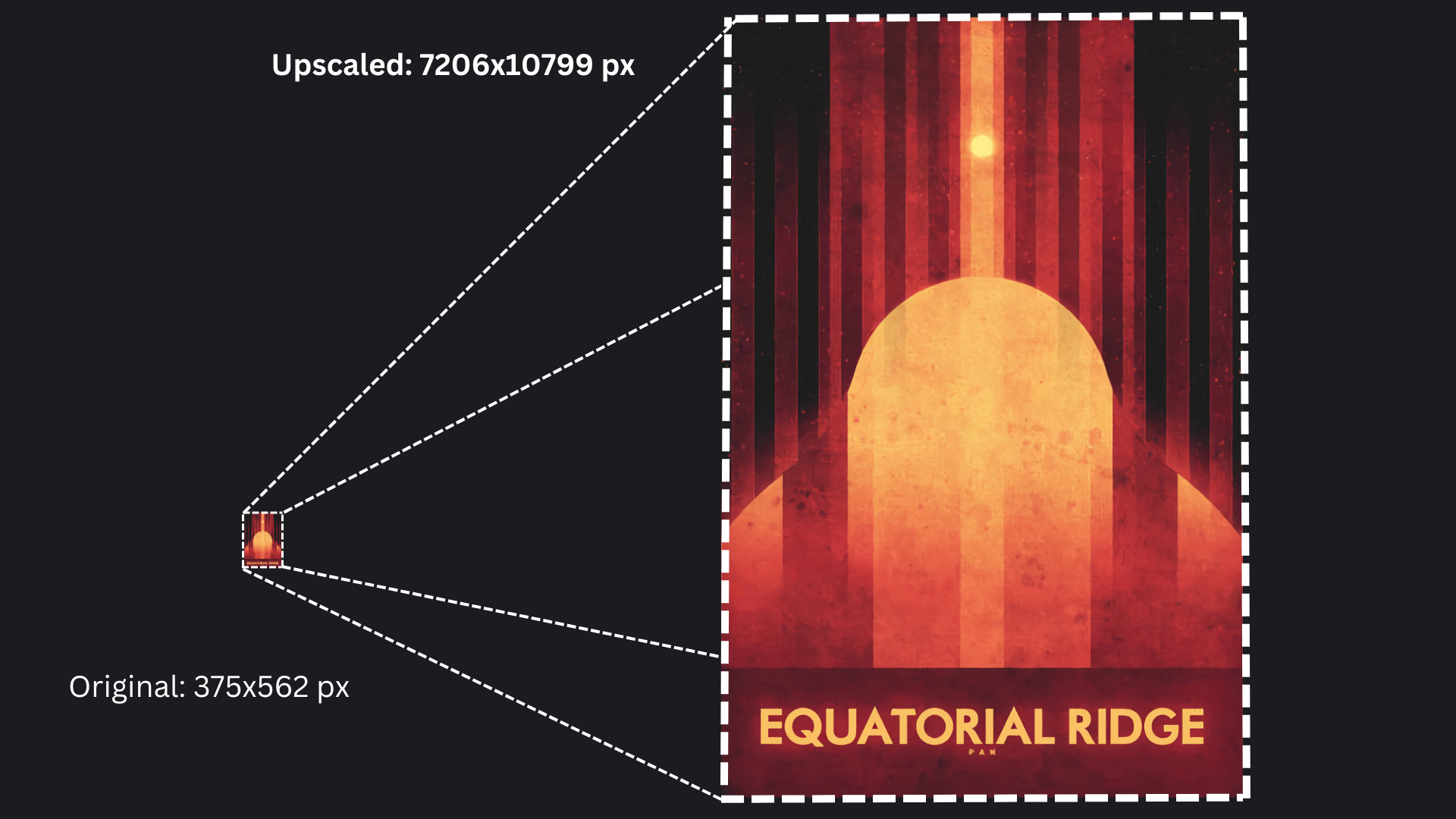 Here's a side-by-side comparison of how much bigger the upscaled version of the image is. After running the image through Let's Enhance, the poster is now ready for large 24x36" prints, while the original image is even too small for standard A4 paper.
Why Use Let's Enhance to Upscale Posters?
With all that in mind, how does Let's Enhance differ from other similar tools or methods of upscaling posters for large print?
Easy and Fast
Let's Enhance is built from the ground-up with usability and accessibility in mind. All it takes is a couple clicks to perform complex upscaling and image enhancement tasks that would otherwise require years of photo editing knowledge and experience.
No Hardware Requirements
Professional image editing software requires a pretty powerful computer to pull off extensive photo upscaling and enhancements. Luckily, Let's Enhance functions completely server-side, meaning so long as you have a stable internet connection, you should have no trouble upscaling to huge resolutions with Let's Enhance.
Versatile and Effective
Besides offering numerous upscaling options, Let's Enhance can effectively perform a number of other visual enhancements. It comes with versatile tools that can improve visual quality in a large number of ways and to suit a variety of uses.
Sign up and start upscaling now!
It takes almost no time to create a Let's Enhance account and start upscaling your images. Sign up now and try it for yourself.