Create never-before-seen pictures with our new text-to-image feature. This AI-powered image generator produces high-quality authentic pics in seconds. It also comes with a simple prompt builder and a powerful upscaler to help you make beautiful, high-resolution images like a pro.

Start generating images in a few easy steps
First, log in to your LetsEnhance.io account or create a new one. For this, go to the signup page and continue with your Google account or email.
You'll get free credits for generating and enhancing pictures upon creating an account.
Then, follow these easy steps to start creating your first AI art:
Step 1: Click on the Image generation tab.
After logging in to your dashboard, switch to the Image generation tab, as shown in the screenshot below.
For the best experience, use your desktop device (computer or laptop) as the mobile version will be coming out shortly.
Step 2: Describe whatever you want to visualize in the prompt box
Depict the subject of the photo and its surroundings. Don't hesitate to get creative — this tool can visualize anything.
Tip: Use nouns and adjectives for your prompts, as the AI is not so good at understanding verbs.
And don't worry, if you get stuck at this step, our prompt builder will guide you through the process of creating an effective description.
Step 3: Add some details to your prompt
Choose what kind of picture you need: a photo, an illustration or 3D.
"Surprise" will generate a completely random prompt for you. This may come in handy, when you need to quickly come up with some fresh ideas.
Use advanced options to refine your description
With each image type, you can pick advanced styling settings that include: colors, lighting, mood, artistic style and so on.
These presets take into account prompt engineering best practices to help you refine your descriptions and get the most out of the AI.
Step 4: Click "Generate"
In just a few seconds an AI will offer you 4 images to pick from. You can download them right away or go back to them later. They will be saved in your LetsEnahnce.io history.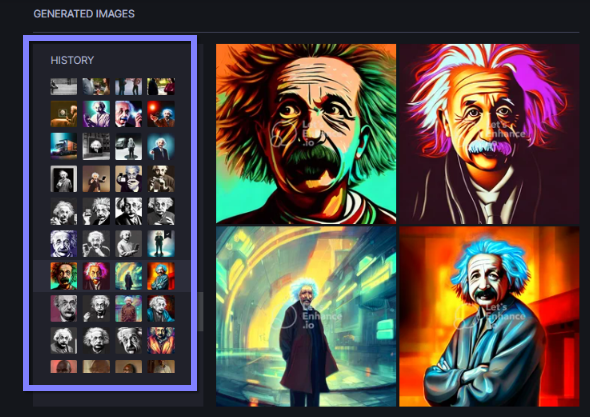 Our paid users can generate unlimited visual content for free. Saving an image without a watermark costs one credit. It also comes with a free 4x upscaling. To learn more, check out available pricing plans here.
What you can use an AI generator for
From concept art to abstract textures to product shots for ads — there are practically no limits to what you can do with generative AI. You can literally bring to life anything that you can imagine.
Make unique art in just a click
AI can create one-of-a-kind artwork in any style and genre. It can even mimic your favorite artists. And the best thing is that absolutely no drawing skills are required to start.
However, if you are an experienced artist, AI can aid you as well. It can help you enhance your workflow and move through the ideation phase in no time.
It's worth noting that each generated image is authentic and can be used for any sort of commercial or personal project.
Create digital assets for your marketing instantly
Whether you are writing a blog post, looking for a thumbnail for your Youtube video or preparing an ad campaign — our Image Generator can do the heavy lifting for you.
Produce visuals for your articles and social media to quickly illustrate your ideas
Generate catchy product shots for product pages and ads
Create never-before-seen cartoon characters, videogame assets, unique backgrounds and textures, etc.
Generate unlimited ideas and draw inspiration from AI whenever you need it
Never get stuck when working on new designs or concepts again.
Just type in a couple of words into the prompt field and unlock original ideas for interiors, architecture, industrial or other types of design.
Tip: Use a "Surprise" wildcard to get randomized prompts.

Leverage a built-in upscaler to make print-ready AI images
Our Image Generator comes in with a 4x upscaler that will enable you to get 2048 by 2048 pixel images.
By increasing the resolution of AI images, you'll make them ready for printing, presentations or in any kind of projects that demand a high level of detail and sharpness.
Then, you can further enhance your picture with Smart Resize, Light AI and all the tools that Let's Enhance offers. This can especially come in handy when you need to print out your image on a large canvas and reach a 300 DPI or similar pixel density.
Start generating AI images for free
LetsEnhance.io Image Generator helps you bring your words to life quickly and effortlessly. Create a free account and start creating stunning AI pictures now.