For this comparison, we tested a variety of photos on the most popular AI upscalers on the market: Let's Enhance, Gigapixel, and waifu2x. Each tool served its purpose and was successfully able to upscale the photos to at least twice their size, without blur or pixelation in the end results.
However, these are vastly different tools and we are going to see how each of them can be used effectively in their own right.
Tests: compare results side-by-side
Four different image types were tested on Let's Enhance, Gigapixel, and waifu2x. The image types included:
Portrait Photo
eCommerce
Real Estate
Digital Art
Test #1: Portrait Photo
Test #1 was conducted to see how Let's Enhance, Gigapixel, and waifu2x could enhance a portrait photo. This demonstrates how the software upscale faces, as well as detect other small details, such as hands and hair. Even though the camera focus was on the person in the photo, the quality of the background was taken into account as well.
Here are the results of all three upscalers. The original image was 360x240 and after being processed through Let's Enhance, Gigapixel, and waifu2x, the image size was doubled to 720x480.
Upscaling images with hair is quite hard since hair particles tend to be very tiny. Here are the results for all three upscalers and how they processed hair particles.
Another zoom-in demonstrates the finer detail of the material, such as the backpack and the fluffy sweater.
As with hair, fluffy material can be a challenge to upscale due to the smaller particles. This zoom-in demonstrates how each of the three upscalers handled hair, as the material of the backpack, including the straps.
One small visual glitch visible in the processed image was a little discoloration on the thumb. The original photo has a slight orangish hue on the tip of the thumb, which Gigapixel AI detected and increased the saturation , turning the orange brighter. Since the rest of the hand's color saturation was not increased by Gigapixel, the orange stood out significantly.
This was not the case with waifu2x, which didn't increase photo saturation at all, so the orange on the thumb didn't increase either. As for Let's Enhance; the app increased the saturation entire photo, so while the orange hue is visible on the thumb, it blends in with the rest of the processed photo's richer colors.
Test #2: eCommerce
The second test was to see how effective the upscalers would be on eCommerce product photos. Considering how eCommerce has grown significantly in recent years and how visual content are among the most crucial factors of making a sale, high-quality product images are a must for online vendors.
The test was conducted on two different product images.
The first eCommerce photo tested was of sunglasses. The original photo was 800x533 pixels, and all three upscalers increased the image size to 1600x1066 pixels.
These are the zoomed-in results for all three upscalers. As you can see, all three were able to upscale the image and you can weigh the quality of the upscaling for yourself.
If you look carefully, you will see that Let's Enhance, using the Smart Enhance upscale setting, restored textures and removed blur a little better. Both Let's Enhance and Gigapixel cleaned up JPEG noise while waifu2x introduced some more compression artifacts.
Let's Enhance + Background Removal
Let's Enhance is the only tool in this list that has background removal. To use it select eCommerce preset and make sure that Background removal toggle is switched on.
Note: As of July 2022, Background removal feature is in beta. It works best on images with contrast background and photos shot in the lightbox.
Take a closer look.
This way, the photo is entirely focused on the product image itself and the background does not distract potential buyers. But these are only a handful of examples.
Test #3: Real Estate (exterior)
Real estate is another major industry in need of high quality photos that are large enough to make out all the tiniest details. Buyers carefully inspect both the interior and exterior of the property before even considering purchasing a new home. So, real estate photography must be pixel-perfect for it to effectively demonstrate the full potential of the property.
An exterior shot of a house was tested on all three upscalers. The original size of the photo was 960x640 pixels and the upscalers doubled its size to 1920x1280.
Zooming in closer onto the front door of the home, here is how the finer details of the facade look up close. As you can see, all three upscalers successfully kept the detail of the house, including the house numbering. Looking at the front door, even the lock and door handle are visibly separate.
Moody lighting, both artificial and natural, is also a huge factor in determining the quality of a real estate photo. Zooming into one of the windows, here are the results of Let's Enhance, Gigapixel, and waifu2x side-by-side. It is also noticeable the effect that the upscalers had on the natural lightning in the background of the photo, which is quite important as it sets the mood for the photo.
Real Estate (interior)
An interior photo was also tested on Let's Enhance, Gigapixel, and waifu2x. The original photo was 615x410 pixels, which was then increased to 1230x820.
Interior photography is also crucial in the real estate market. Buyers want to see everything from the flooring and lighting fixtures, to the kitchen marble countertops, cabinetry and furniture.

Interior photography is also crucial in the real estate market. Buyers want to see everything from the flooring and lighting fixtures, to the kitchen marble countertops, cabinetry and furniture. You can also see more details, such as decor, furniture, and electrical outlets, all very important for buyers to see as they browse for a new home.
Let's Enhance + Light AI
Let's Enhance has a smart HDR filter that many of our real estate clients use on interior shots.
Light AI is powered by machine learning. It intelligently applies color and light correction depending on the photo's content. If any part of the photo is dark, Light AI brightens it up. And if the picture is overexposed Light AI can fix this as well.
It also increases dynamic range, bringing out the natural beauty of each photo and overcoming the limitations of digital cameras.
Real Estate picture processed with Smart Enhance and Light AI:
Compare the input and the result side-by-side:
Test #4: Digital Art
Whether you're an artist looking to post your work on social media or have it printed onto a large canvas, upscaling digital art is commonplace. This is why for Test #4, we picked two different kinds of pieces of digital art to test the upscalers on.
The first digital artwork we tested was a painting of mountains, which was originally 615x345 and was upscaled to 1230x690.
Here's a closer zoom-in on all three upscaled samples. There is a noticeable difference in color among the results, however, as far as increasing the size of the photo is concerned, all three were successful and no visual glitches were spotted.
This is the leftmost side of the same artwork, which also demonstrates the difference between the three upscalers. Once again, the difference is very faint but is noticeable.
The second piece of artwork tested was a digital painting of a dog, which was original 615x471 pixels. Here are the results after 2x upscaling by all three tools.
This 125% zoom into the digital artwork shows the smaller details of each upscale and the subtle differences between them.
Let's Enhance vs. Gigapixel vs. waifu2x: an in-depth comparison
In the following sections we compare features, pricing and technical aspects of most popular AI upscalers.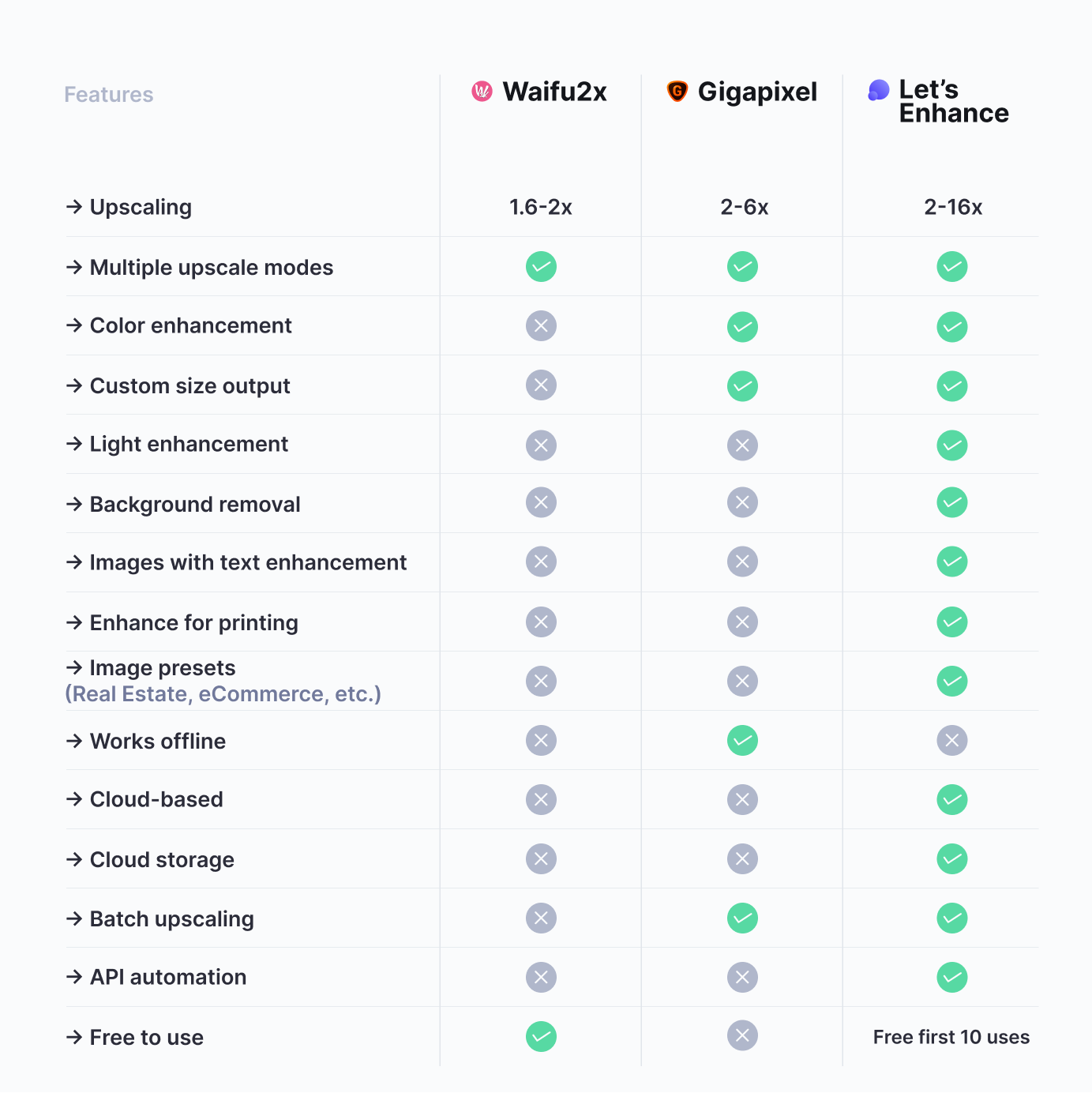 Let's Enhance
Working entirely within the browser, Let's Enhance uses a complex AI algorithm to enlarge photos, as well as a slew of other features. Registering on Let's Enhance is free for the first 10 uses, after which you can purchase credits with which you can upscale photos.
The upscaling tool comes with several settings for photos, digital art, Smart Resize (works great for images with text), as well as Smart Enhance, which automatically polishes images for eCommerce by adjusting the background, padding, and centering it on the canvas.
Efficiency
Let's Enhance took 15 seconds to upscale the original image to 4 times its original size, as well as adjust other settings, such as saturation. On higher settings, especially upscaling 16x, it took Let's Enhance significantly more time to process the image.
Features
Let's Enhance upscales photos but also offers a slew of other options for more specialized results. For example, by changing the settings you can upscale the photo for printing, eCommerce, or real estate. Let's Enhance also lets you control other settings such as saturation, tone intensity, and lighting.
When it comes to sizes, Let's Enhance offers far higher upscaling options than waifu2x's 2x and Gigapixel's 6x upscaling sizes. Let's Enhance can upscale photos up to 16 times, but for the sake of comparison, we tested the 2x size so it could be compared to waifu2x's highest option. However, here are the results of a 16x upscaling on Let's Enhance:
Let's Enhance also has a separate tab for presets, where instead of tweaking the additional options yourself, you can choose one of the presets depending on the type of image editing you need.
For example, by choosing the E-commerce option in the presets, your photo will be edited to suit modern e-commerce image standards, such as adjusting the size of the product image, the background, the padding, etc. All you have to do is choose the size that you want the photo to be upscaled to and let the software handle everything else.
Advantages of Let's Enhance
Packed with tons of photo editing and enhancement functions
Very effective at upscaling photos up to 16x its original size
Presets for eCommerce, Real Estate, and Printing enhancements
User-friendly and straightforward user interface
Free uses don't leave watermarks
Disadvantages
Requires internet connection
Up to 10 free uses
Larger upscales can take several minutes
Gigapixel
Gigapixel is a downloadable AI-powered image upscaler created by Topaz Labs. The software can be purchased for a one-time fee of $99.99 and can be used indefinitely.
However, Topaz Labs does offer a  trial of Gigapixel to test this upscaler. Gigapixel is also downloadable, which means you don't need an internet connection for the software to work, but it relies on the power of your GPU to process images.
Upon the initial trial of Gigapixel, we encountered a little technical nuance. While the app is downloadable and can work offline, for first-time users it is important to note, that upon uploading an image for the first time, the software will need to download model files before it can process an image. Without going into technicalities, know that if you're using the software for the first time, you require an internet connection.
Efficiency
To upscale the photo to 6x its original size, Gigapixel needed 12 seconds to process. One of the biggest advantages of Gigapixel is that it works offline, meaning that the processing time does not depend on the speed of the internet.
Features
While Gigapixel did successfully upscale the image, outside of upscaling there is not much else that the software can do. As far as upscaling goes, there are a few more specialized tools in the software, such as changing the settings depending on the image type (i.e. architectural, graphic design, and compressed photos).
Additional features include face recovery for blurry or compressed images, as well as a reduction of color bleed.
Advantages of Gigapixel
Can be used offline
Successfully upscales and enhances images
Easy-to-use interface
Effective noise and blur functions
Disadvantages
Leaves a watermark even during the 1 month free trial
Up to 6x upscaling, compared to Let's Enhance's 16x
Does not offer presets for photo types
Additional downloads are required for different enhancements and settings
Relies on the CPU, RAM and graphic card of your computer
Waifu2x
Waifu2x is a browser-based photo and digital artwork editing tool. It was created in 2015 by an independent developer going by the online name of nagadomi.
The tool was created for upscaling and reducing noise in artwork, with a heavy emphasis on Anime. However, waifu2x can also be used to upscale photos. The software is completely free and does not leave any watermarks, relying on Patreon donors for development funding.
Unfortunately, some of our tests test did not work on waifu2x. After several attempts, the software would not output any image and would display an error message.
This is due to the fact that waifu2x has two specific limitations that kept us from testing the photo of the soy sauce bottle. First is the limit on the size of the photo, 5mb (the test image was 5.24mb) and the second is the upscale size of 1500x1500 (the original photo being more than twice that size). As a result of these two limitations, the software displayed an error message and although the photo could be uploaded, the software did not process it.
Efficiency
From start to finish, it took waifu2x 16 seconds to process the image and upscale it by 2x. This time does not account for uploading the photo and downloading it.
Features
Waifu2x offers the least of the 3 apps in terms of features and functionality. The software can upscale images up to 2x times. This option is not particularly impressive when compared to Gigapixel's 6x and Let's Enhance's 16x.
Since waifu2x was created with Anime artwork in mind, you do have the option of choosing whether your image is artwork or a photo. Additionally, waifu2x has a noise reduction function with 5 levels of intensity, from None to Highest.
Waifu2x also does not leave any watermarks. The software is entirely free to use without having to download it. Images are uploaded and downloaded per session and the software does not save any of your previously upscaled images, unlike Let's Enhance and Gigapixel.
Advantages of waifu2x
Very user-friendly
Completely free
Not required to create an account
Disadvantages
Maximum upscale size is 2x
Limitation on the photo size (both in terms of memory and number of pixels)
Outdated UI
Re-captcha checks make it difficult to process images in large batches
Not a secure HTTP website (as opposed to HTTPS)
Final Verdict
Here are the final verdicts for what we believe are the strongest aspects of each software.
Let's Enhance:
Versatile
User-friendly
Highest upscaling max. size
When it comes to versatility and additional features that can be customized to suit the user's needs, Let's Enhance is definitely the most convenient upscaler. There are a lot of options for a user to play around with and produce results that are closest to the user's expectations.
Let's Enhance is also very user-friendly. Even those with little experience in photo editing can effectively upscale their photos.
Gigapixel:
Offline tool
Time-efficient
Gigapixel stands out as an upscaler, since it must be downloaded before use. This is not very convenient for those who rarely upscale photos , but is very useful if you do this on a regular basis. Being a downloadable tool allows for Gigapixel to also work offline. This shortens the time it takes to process photos, making Gigapixel slightly more efficient than the other tools.
waifu2x:
Simple interface
Completely free
If you're looking for a quick, simple, one-time free upscaling tool, waifu2x covers all the bases. While it does not upscale beyond 2x, it still gets the job done. Though not having many features and options to play around with can be seen as a disadvantage, it could be advantageous to those who are not looking for anything too complicated.
Questions and answers
Here are some general questions people have about upscalers and how Let's Enhance works.
What is the difference between upscaling an image and simply increasing its size?
When you increase the size of an image, it gets larger, but so do the pixels in the image. This means you have an image that's larger than the original, but it's also pixelated and blurry.
Upscalers are specialized tools that increase the size of the image, but instead of the end result being pixelated or blurry, it's just as crisp as the original image.
What kind of upscaling software is the best?
Keep in mind that you can use photo editing software like Photoshop to upscale and unblur larger photos by hand. But the most effective upscalers tend to be AI-based. This is because compared to people, AI is very consistent. The task of meticulously going through each pixel in an image and upscaling it is not very difficult for AI. For people, however, it's a very difficult task to pull off effectively.
When do I need AI upscalers?
Imagine you find a really nice photo, but you took it a long time ago. It's an oldie, taken with one of those 18-year-old flip phone cameras, so the resolution is really small. Does this mean it's not unsalvageable? Of course not; not with powerful AI upscalers.
You can run the photo through an upscaler like Let's Enhance have the photo ready to be posted on social media in a matter of seconds. And this is just one example of why you'd need an AI upscaler. There are tons of other practical applications for AI-based upscalers and a lot of different ways that they can be used to recover photos and enlarge them without loss of quality.
How can I upscale photos in large batches?
Let's Enhance, Gigapixel, and waifu2x are all effective at upscaling photos, but they are meant to be used on a handful of them. For larger photo batches, we're talking about thousands of photos, Claid.ai is the superior option.
It's also an AI-based upscaler like Let's Enhance, but it deals with much larger batches of photos. It can upscale thousands of photos at once and enhance them all to the same standards. This consistency is key for businesses that need a large number of visual content, such as online marketplaces, food delivery services, and real estate brokers.