Highlights
Challenge: Printify sought to improve print quality as 15% of their merchants were working with sub-optimal images.
Solution: Printify integrated Let's Enhance's Claid API to seamlessly enhance image quality.
Impact:  With Claid improving image resolution, Printify merchants now have more confidence their products will print beautifully.
Industry: Print-on-Demand and Drop Shipping
Printify is the world's most popular print-on-demand platform. Their unique technology means anyone can put their designs on over 850 products that they can then sell around the world by seamlessly connecting their Printify account to marketplaces and store builders like Etsy, Walmart, Shopify, eBay, and more.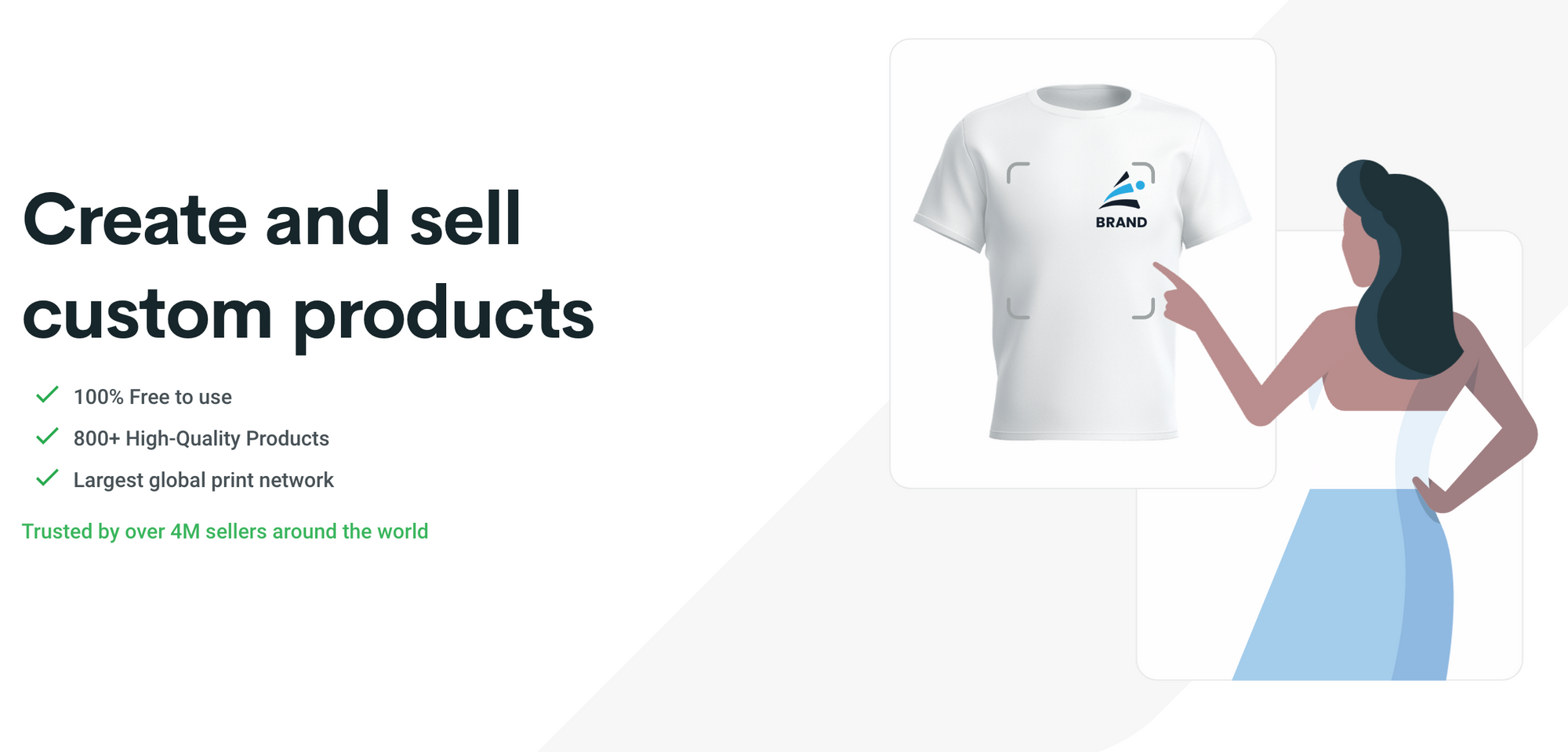 Because every product is created only once a customer has paid for it, anyone can start selling with zero investment.
Printify has over 100 fulfillment centers around the world, meaning you can truly make your business global.
Challenge
At Printify, they understand how important it is for their users to have a great experience and get the most value from Printify as quickly as possible. To make their platform experience even better, Printify conducted a survey and found that there was an opportunity to improve print quality for merchants.
In order to get the best quality print, it's important that merchants upload high-quality images. New merchants who aren't experienced in the industry, often do not have images of a high enough quality ready to go.
So, the Printify team started seriously examining their options. This exploration included the consideration of developing an in-house solution as well as conducting tests with over a dozen image enhancement technology providers over a one-year period. During this research phase, Printify discovered Claid, a Let's Enhance product offering an API, and engaged in discussions with the team. After careful consideration and recognizing the potential benefits, Printify decided to integrate Claid into their platform for an A/B test. The objective was to assess how merchants could utilize Claid and evaluate its impact on input image resolution.
Based on the analysis, Printify saw that up to 15% of merchants were working with images that were not optimal for their products. Of course, the platform interface prompted people to upgrade or switch the image, but this is not always easy for a merchant to achieve. This is where Claid came in.  

Why Printify Chose Claid, a Let's Enhance Product
Printify was looking for a solution that would
Allow users to improve the quality of their images
Increase the resolution and DPI of images
Integrate seamlessly into their platform
Improve merchant satisfaction

The technology, documentation, and integration of Claid were a perfect fit for Printify after testing several solutions. After validating the problem, both the product and data teams at Printify explored several open-source, internal, and external solutions to solve the problems discovered. These were the ways Claid stood out.
Seamless Integration
Claid has up-to-date detailed documentation designed to assist teams when integrating  Claid's API into their platform. Also, a hands-on support process meant that the Printify team could easily ask any questions.
AI-powered quality restoration
Unlike traditional software, a neural network can reconstruct details and add missing pixels. Claid's AI has been trained and perfected while enhancing millions of images and is proven across multiple real-world use cases.
Improving merchant experience through high-image resolution
Printify now enables users to enhance the quality of low-resolution images while designing their products. This upscaling process takes place only after the user has submitted their order, which makes it a cost-efficient solution.

Using Claid's customized AI, the quality of images uploaded by Printify's merchants has increased leading to improved satisfaction. Claid has successfully reduced friction by eliminating the need to ask merchants to find a higher-quality image. The significant increase in merchant satisfaction regarding image resolution in the orders received is a clear indication of the effectiveness of this approach.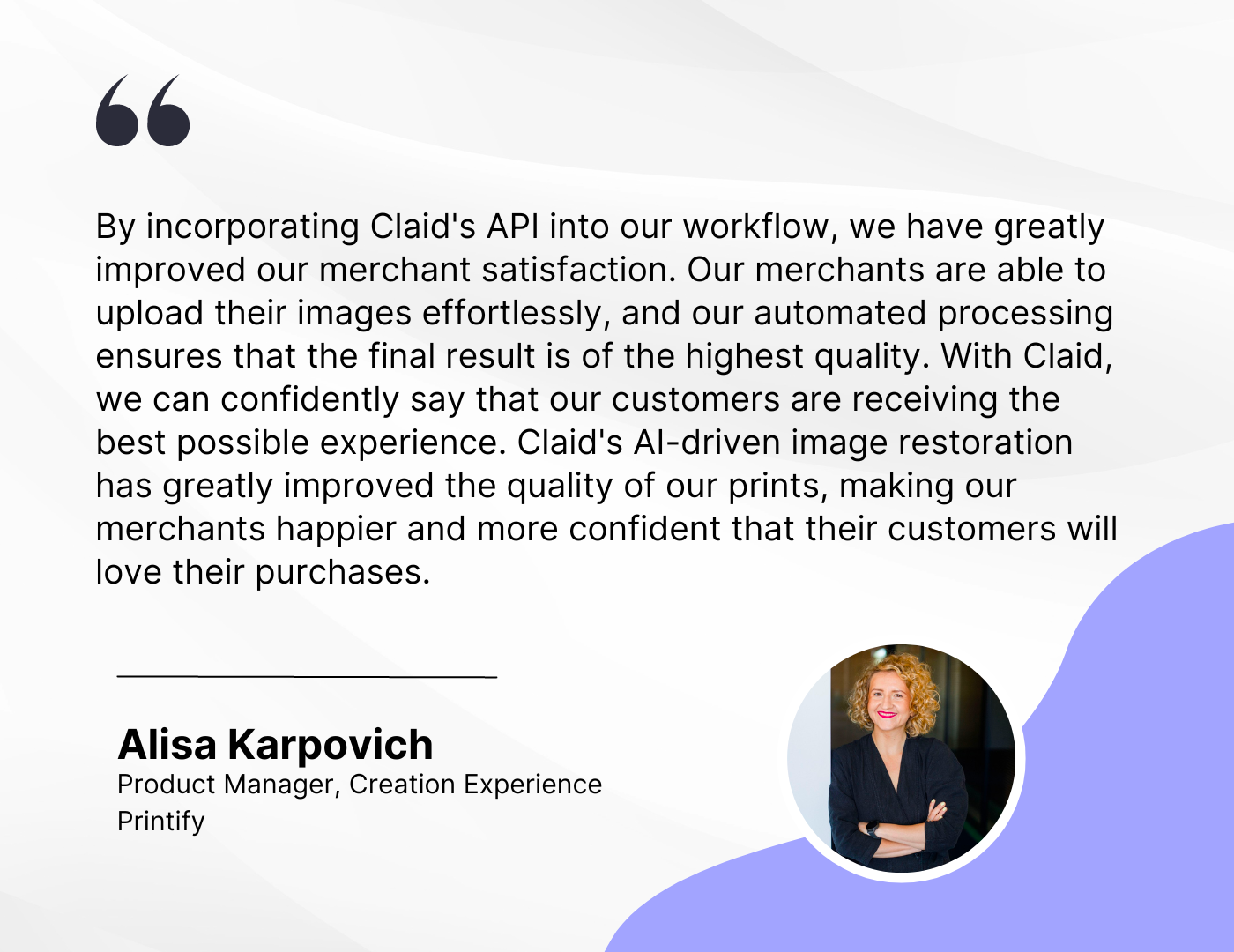 The Future of Printify with Let's Enhance and Claid
Printify is highly satisfied with the technology and quality of service provided by Claid. As a result, Printify intends to incorporate Claid's background removal and image generation features into their platform in the near future.